The ISSDP laboratory project was presented at the exhibition as part of the Global Technology Leadership Forum 2019
12.12.2019
An open platform for the development of neurotracers and neural interfaces for controlling mobile robotics created by the laboratory in collaboration with Robbo and Linux Format was presented at the Global Technology Leadership Forum 2019 as part of the Innovations and Technologies in Real Life Exhibition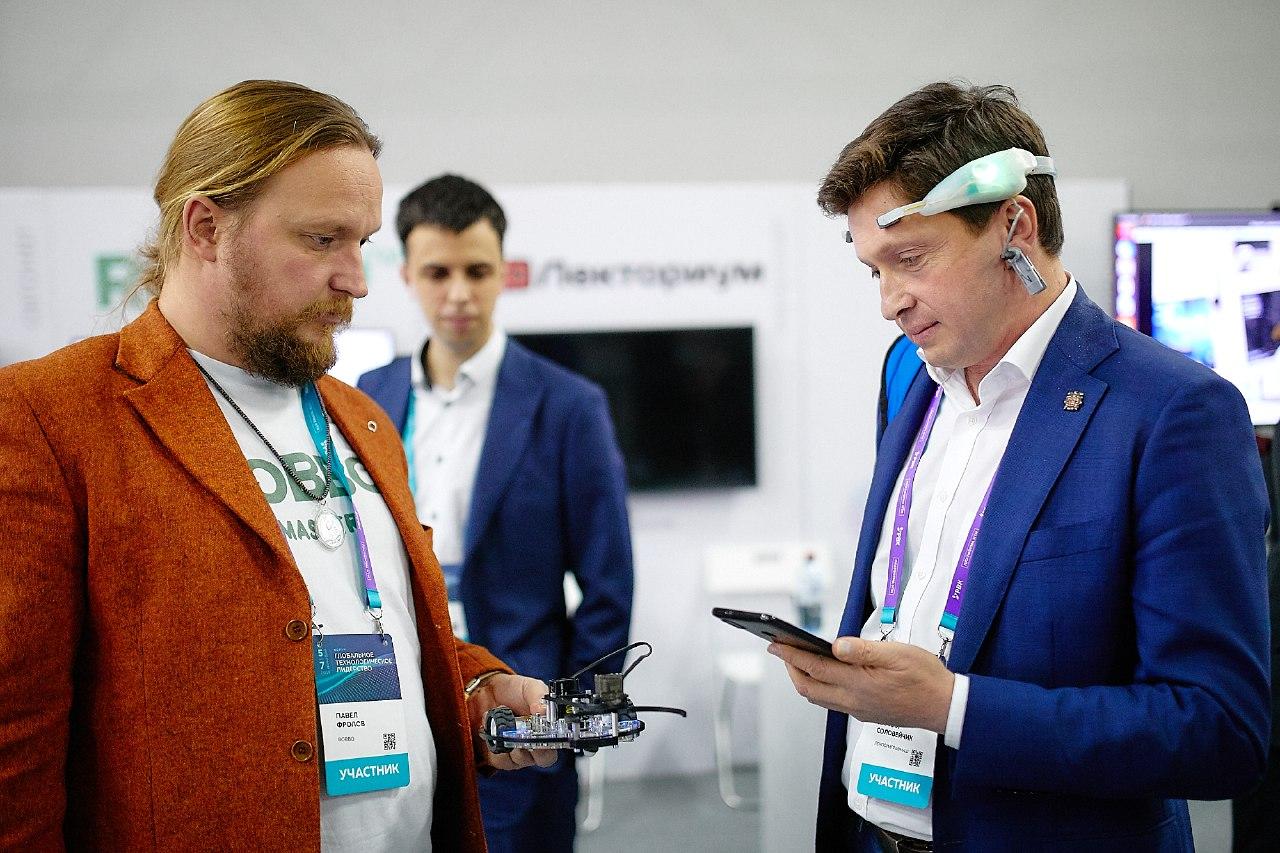 On December 5-7, 2019, Sochi hosted the annual Global Technology Leadership Forum, dedicated to the introduction of advanced end-to-end technologies in high-tech industries and the development of the innovative ecosystem of the RF. The staff of the Competence Center NTI SPbPU "New Production Technologies" attended event headed by its director Alexei Borovkov.
At the "Innovations and Technologies in Real Life" exhibition included in the forum program, a joint project of the ISSDP laboratory and Robbo and Linux Format companies was presented: a demo version of an open platform for the development of neuro exercisers and neural interfaces for controlling mobile robotics.
The hardware-software complex (HSC) consists of a device for registering brain signals (a neuro headset) allowing to receive brain activity signals that are used to generate control actions on an external device; in this case, this was a robotic platform manufactured by Robbo.
Signal removal, pre-processing and analysis are carried out directly on the headset hardware, and the robotic platform is controlled by wireless transmission via Bluetooth with the use of the BLE module.
For communication and broadcasting commands, an original OS Android-based application was implemented; it provides the reception and transmission of data from the headset to the robotic platform. An intermediary application generates a control signal about the direction of movement and the angle of rotation based on the data from the accelerometer and gyroscope of the neuro headset; it also generates the "capture" control signal based on the data of the electroencephalogram.
The platform was created as a visual aid for schoolchildren, students and those who study the topic of robotics control using the neural interface, to help them create their own devices based on this complex or design neurotracers to increase the brain's ability to concentrate, switch attention, etc.
The HSC being developed is based on copyleft software and hardware. Publication under a copyleft license will allow users to know this device in detail and create their own based on this constructor.
The project was implemented with financial support from the Fund for the Promotion of the Development of Small Forms of Enterprises in the Scientific and Technical Field (Innovation Promotion Fund).